B-17 Memphis Belle
B-29 Dauntless Dotty
Collectible World War II Memorabilia
The website authorized by Linda Morgan for the sale of Memphis Belle memorabilia signed by Col. Robert K. Morgan, Pilot,
who passed away on 15 May 04. Signed items are accompanied by a Certificate of Authenticity signed by Mrs. Morgan.
---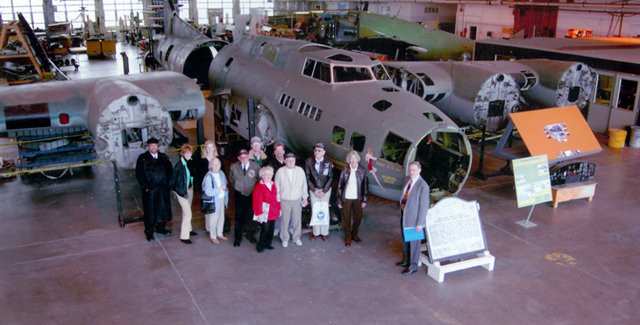 17 FEB 2006 - Linda Morgan (Next to the PETTY GIRL nose art.) and friends visit the Belle in the
restoration hangar at the National Museum of the US Air Force. The private tour was lead by
Museum Curator Gen. Charles Metcalf. (Far right)
Click here for more pictures of the tour and highlights of the interviews
---
THE SEARCH FOR DAUNTLESS DOTTY!
$1.00 of EVERY ITEM Purchased goes to Ocean Wilderness Group to fund the search and retrieval of Col. Morgan's B-29 that crashed off KWAJALIEN ATOLL.
---
TABLE OF CONTENTS
NEW SECURE
Shopping Cart
Memorabilia Catalog
Now you can pay securely through PAYPAL!!!!
Printable Mail Order Form Here
We are pleased to announce the release of
Col. Robert Morgan's autobiography:

The Man Who Flew The MEMPHIS-BELLE
Memphis Belle Story & Mission List
Dauntless Dotty Story & Mission List
A Short Biography of Col. Morgan
Fans of the Memphis Belle
(Visitor submitted photos)
2008 National Appearance Schedule

Animal Rescue and Adoption Program
Contact us at Morgan Productions
Page design by Tim Epperhart for Morgan Productions, 658 County Rd 204 Crane Hill, AL 35053

This website is a member of The Aero Ring, a linked list of aviation websites. To visit other sites in the ring, click on one of these links.
[ Next Site | Skip Next | Next 5 | Previous | Skip Prev | Random ]
Click Here for information on how to join the ring or look at a complete list of Aero Ring members.